eConverter
TAQA eConverter provides a quick and easy way to convert all frequently used energy units, capacity units and gas prices. Furthermore, the conversions can be fully customised by creating user defined energy units and favorites lists.
The global gas market is constantly changing, trading markets beginning to converge. However, some differences remain; energy units can differ per market and region and physical differences can affect gas quality and their conversion rates. Differences that can make the global gas market less transparent. With these differences in mind, TAQA's Gas Storage Bergermeer launched the "TAQA eConverter", which provides a quick and easy solution to convert over 50 commonly used energy and capacity units in the gas industry.
The app supports 6 different types of conversions: energy, capacity, gas price, trading products and all ECB supported currencies. Gas Storage Bergermeer offers services in standard bundled units (SBU) at the trading hub TTF in KWh. The TAQA eConverter can be used by Gas Storage Bergermeer customers to convert their SBU rights to any preferred capacity unit.
TAQA eConverter converts:
50 standard energy and capacity units and customised defined energy units
All ECB supported currencies (EUR, USD, BRL, CHF, GBP, AED and many more)
Any gas prices that can be created from an ECB supported currency (p/therm, EUR/MWh, €c/m3 (35.17MJ/m3) USD/MMBtu and many more)
All standard gas contracts to energy, taking into account summer winter time change and leap years (Day Ahead, Forward Months, Quarters, Seasons and calendar and storage years)
Gas Storage Bergermeer standard bundled units registered capacities can be converted to any capacity unit of choice, and in addition pressure factors can even be taken into account.
TAQA offers you this app, ad and cookie free, as we take pride in supporting our customers in their daily work. By making conversions readily available, we hope to reduce existing boundaries and achieve higher transparency in the energy industry.
Download the App for your phone
Specifics
Last version V1.3 (October 2017)
3,1 Mb
Requires iOS 8.0 or later. Compatible with iPhone, iPad, and iPod touch.
We support most used units in the energy business for example kWh, kJ, SBU space, Btu, toe. Contracts such as "Day ahead", "Q2 2014" or "Apr 2014" can be selected in the trading converter. Currencies are from ECB exchange rate with a daily download (as well as the United Arab Emirates dirham, AED.)
Tutorial
View our instruction movie on YouTube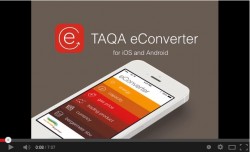 Frequently Asked Questions
Links